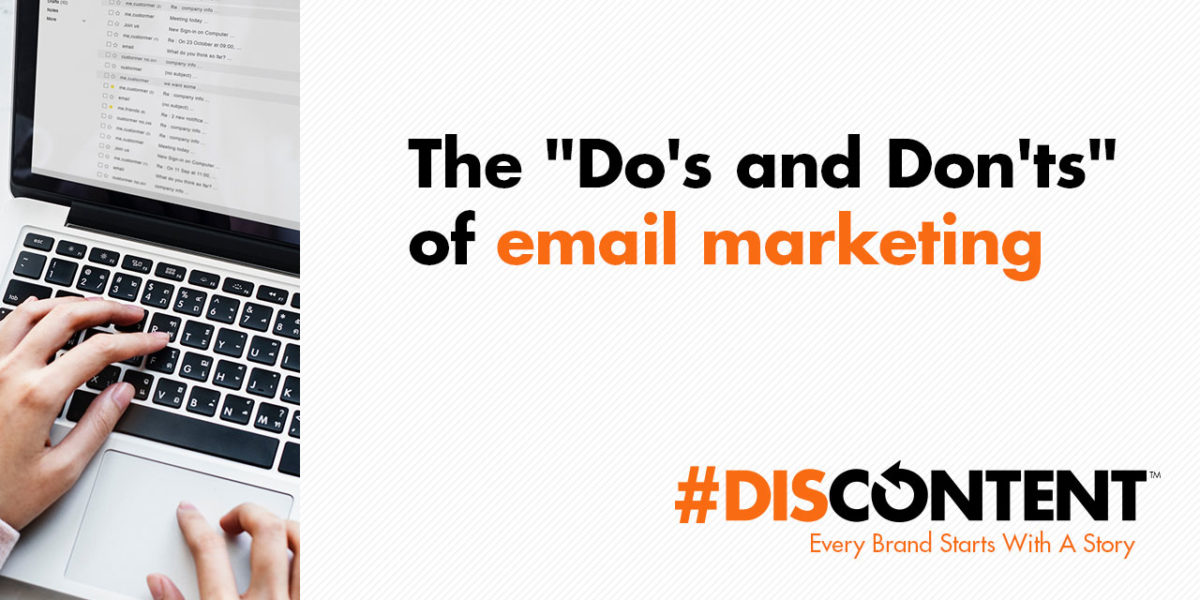 The "Do's and Don'ts" of email marketing
On the 50th episode of the DisContent Show, Joe covers the many ways he would slap someone's hand for "doing email the wrong way".
If you're using a traditional email address to send mass messages stop everything you're doing and listen to this show! (And if you haven't started yet, there are plenty of great tips in this episode for how to properly reach your audience or potential customers using email – so this is a must listen!)
Subscribe and listen on these podcast platforms
Podcast: Play in new window | Download
How to prevent your email marketing messages from going to spam
This episode is a must-listen for anyone who runs email marketing campaigns. Joe covers several ways to help clean up your email marketing messages and help prevent them from being sent into the recipient's spam or junk mail folder.
Among the tips discussed are email list building, proper formatting for multiple email providers, and why you need to think about laws, and the rules of the Internet, when building your campaigns.
Subscribe and listen on these podcast platforms
Podcast: Play in new window | Download
What does this do for YOU?
This may seem like a very innocent question in the world of content marketing, but it's a noteworthy one. Every blog you write, every post you make on social media, every word you speak on a podcast or publish in an email or eBook is significant.
For example, if you mention a third-party product (i.e. not your own) in a campaign, you may be seen as endorsing it. Worse, you could be giving away free advertising.
The first thing to understand is that anything you say or do with you audience carries weight. A simple thank you or mentioning a mutually beneficial partner is an act of good will: randomly mentioning something else may have a negative impact, which a brand spinning its wheels to gain traction cannot afford to do.
Therefore, always ask yourself: "What does this do for you?"
That's not a selfish stance, but something that must be thought out when focusing on your content marketing strategy. Your primary focus should be sales or new business. In order to attract those customers or clients, your efforts should spotlight your brand or company.
Generally speaking, you want to bring your audience to you. You do that by sharing information on social media, however, it's not always that simple. There's no harm in sharing posts from someone else or publishing photos on your social media networks, but there's little "juice" to be gained to get those potential buyers to take the next step. A breadcrumb trail leading back to your website (where your sales pitch is, hopefully, well defined) should be your primary goal.
Sharing the local weather report, that someone can get anywhere else (such as the source) probably won't help your return on your investment of time and money. That's an issue I see with many potential new and even existing clients. They share/post a lot on social media, but it doesn't generate any conversation and certainly if it's not leading back to their website with a link or call to action, it disappears into the oblivion with no interaction.
"Sharing is Caring" but you have to be careful to not overshadow your own efforts. Think of it this way – you wouldn't buy a billboard or radio spot for someone else, so we need to ask ourselves why we're freely promoting something, if, "it does nothing for you."
Again, that may come off as self-serving, but that's the entire purpose of marketing. Far too often I see people with great drive expend their energy on things that aren't directly helping their bottom line. Don't be that person. Get down to basics and ask yourself the question above. You may find that this concept helps streamline your overall efforts and makes them more efficient and effective!
Why using email and building an email list is so important
Think email is an old dinosaur that's gone extinct?
Think again.
One of my challenges with content marketing is convincing clients about the importance of email marketing. Email is still one of the most customizable and direct ways to reach your audience.
Even with the advent of social media, people are still prone to checking their email daily; sometimes multiple times per day. That's more often than Facebook or Twitter. Better yet, unlike those platforms, you own your email and it won't disappear from the recipient's inbox until they do something with it.
Tweets vanish within minutes. Facebook posts are gone within days. But if someone goes on vacation, they will have to address your email message at some point.
That's why email continues to be a pillar of content marketing. However, in order to have a successful email marketing campaign, you have to start with a list… today!
Now available on these services
Podcast: Play in new window | Download