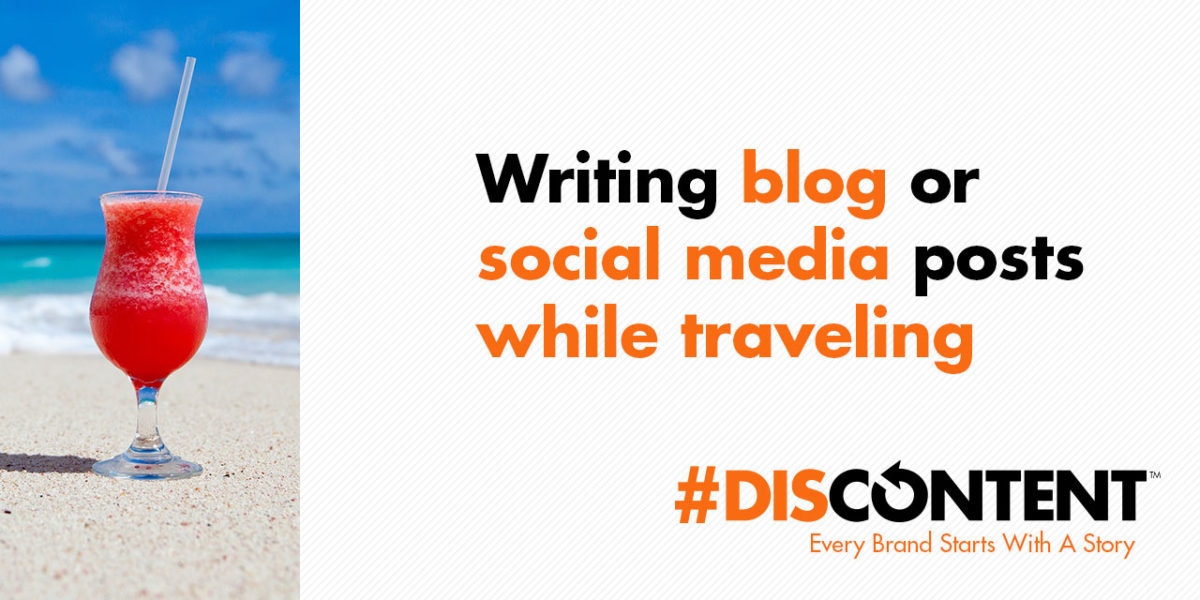 Writing blog or social media posts while traveling
Having trouble finding time or a balance with writing posts for your content marketing campaigns?
Joe has the answers in today's episode which focuses on the road warriors out there who may feel tethered to their desktop computers, but shouldn't have to be. Among the tips are ways to multitask or tuck minutes of writing time in while traveling or away from your desk.
Subscribe and listen on these podcast platforms
Podcast: Play in new window | Download
Where to find photos for your blog, emails, social media, and more
In the latest DisContent episode, Joe covers ways to find photos for your blog, emails, social media, and more.
But before diving into the "where", you also need to know the "why". There's a lot of lingo when it comes to licensing and Joe covers some of the pitfalls you'll want to avoid when searching for "free" images – including places to avoid downloading from and that "royalty free" doesn't truly mean "free to use".
Subscribe and listen on these podcast platforms
Podcast: Play in new window | Download
Blog and Website Pet Peeves
Today's episode focuses on further tips you can use while writing a blog, posting to social media and/or updating your website… by way of Joe disclosing his top pet peeves!
These common errors and mistakes can be detrimental to your online presence. Joe will discuss some ideas to avoid those pitfalls and how even the most obvious omissions on your digital platforms could be negatively impacting your SEO.
Subscribe and listen on these podcast platforms
Podcast: Play in new window | Download
The risks and rewards of using clickbait
On the latest episode of the DisContent Show, Joe talks about clickbait: how it can be both a blessing and a curse for your content marketing!
A certain strategy must be used when getting more sensational with sharing headlines on social media. Joe will breakdown the best way to avoid making a mess of your content while also maximizing your exposure. (And why big numbers aren't always the most important factor in increasing engagement!)
Subscribe and listen on these podcast platforms
Podcast: Play in new window | Download
Reverting back to the Classic Editor in the latest edition of WordPress
One of the most ill-advised updates in WordPress history came this past week in the form of WordPress version 5.0. The latest iteration of the software has ditched the traditional, or "classic" editor we're familiar with in lieu of a new "block style" layout editor named "Gutenberg".
In short, Gutenberg replaces the previous classic editor which has existed within WordPress for over ten years. It's a modern rethinking of the entire publishing interface, however, that's not always a good thing.
After playing with Gutenberg for several months (as WordPress announced its arrival would come some time ago) I started seeing that some custom functions I developed for clients of mine had disappeared. On top of that, copy and pasting content from other sources, and then editing said content, had become laborious.
It appears I'm not alone in this thinking, as the official WordPress plugin repository tells the whole tale:

Gutenberg is the default editor in the latest version of WordPress and doesn't have to be installed, so the 400,000 active installation statistic is a bit misleading. However, the over one million active installations for the Classic Editor is not: the number continues to climb by hundreds of thousands daily, as WordPress users and developers reject the new block layout style of Gutenberg (illustrated by the over 1,900 reviews, currently at 2-stars as of this writing).
If you're one of those users stuck in a rut with the new editor, not all is lost. You can use one of the following two methods, outlined below, to restore the Classic Editor as a plugin. Doing so will also revert some of the elements Gutenberg hides or breaks in the latest edition of WordPress.
According to the official plugin repository:
Classic Editor is an official plugin maintained by the WordPress team that restores the previous ("classic") WordPress editor and the "Edit Post" screen. It makes it possible to use plugins that extend that screen, add old-style meta boxes, or otherwise depend on the previous editor. By default, this plugin hides all functionality available in the new Block Editor ("Gutenberg").
The official link also notes that support for the Classic Editor will be maintained until at least 2022: a good sign for those of us fighting with compatibility issues within it's replacement.
If this sounds like something you wanted yesterday, here's how you can go back to the way things were by installing the official Classic Editor WordPress plugin.
Add New Plugin
If you click on the Plugins link on the sidebar menu within the WordPress admin area, you will arrive to a screen listing all of your installed plugins. A button at the top of the page gives you the ability to "Add New" and that's precisely what we want to do. Clicking the "Add New" button will take you to the next screen, where you can directly install a plugin by searching for it, or you can upload a plugin you previously downloaded to your machine.
Direct Install
Currently, the Classic Editor is one of the most popular plugins in the WordPress repository and should show up on the main "add plugin" screen without searching for it. Should it not be on your screen here, a search box to the top right of the page will help you track it down.
Simply type in "Classic Editor" and you should see several search results. Look for the correct plugin (as pictured above) and click on the "Install Now" button.
In a few moments the plugin will install on your WordPress site, but you're not finished yet: you must then click on the "Activate" button which takes the "Install Now" button's place in order to apply changes and restore the Classic Editor over Gutenberg.
Upload Manually
If for some reason you cannot directly install the Classic Editor, another option is to download the Classic Editor as a zip file from the WordPress plugin repository. Start by downloading the file from this link: https://wordpress.org/plugins/classic-editor/.
Next, visit the same plugins section, as noted above, by clicking on the relevant "plugins" link on the sidebar while logged into the WordPress dashboard. You will arrive at the page listing all of your installed plugins. Just like the direct install method, you want to click on the "Add New" button at the top, but this time you will click on another button in nearly the same spot on the next page, "Upload Plugin" and then choose the zip file you saved from the step above.
In moments you will see that the plugin has installed and you will be given an option to activate it. Don't forget to do this, as the inactive plugin won't get rid of the Gutenberg "experience"!
Conclusion
It's easy to see that WordPress users are initially rejecting Gutenberg due to the lack of a traditional word processing experience. Computer, and even smartphone users, have grown accustomed to a traditional toolbar and return lines (headers, paragraphs, etc.) as commonly found in programs such as Microsoft Word, social media apps, and just about any email provider or software on the planet.
The new Gutenberg experience attempts to make block layout easier for the Average Joe, as advanced web designs required knowledge of HTML and CSS in the past. However, Gutenberg makes this change by eliminating a traditional writing experience which has been around since the dawn of personal computing.
In addition, those of us (like myself) who have hand coded custom WordPress themes and functions for advanced designs, are finding that our work is broken by the Gutenberg editor: making it more difficult for users and clients to update their sites or breaking functionality altogether.
If you find yourself in either camp as someone who wants the classic writing layout or you can't find custom meta boxes and features you once had while editing your website, then a return to the Classic Editor is just the fix you need to get right back on track!
How to improve your brand's perception by fixing inconsistent and poorly structured writing
When writing blog posts, I know that many people worry about things such as spelling or the length of the article. However, one typo won't get you in hot water so much as the structure of your article. That is, the overall presentation of your writing is just as important as spelling and grammar.
If you're using some of the tips I've suggested while typing your blog posts, spelling and grammar shouldn't be too much of an issue. Programs such as Microsoft Word or Grammarly will often correct punctuation as well, but what they lack is the eyeball test for readability and consistency.
Below are some of the items I see standout when editing articles. Looking out for these potential inconsistencies will improve your articles and their readability while also giving a boost to your brand's perception. (Note: these same tips can be followed when posting to social media sites such as Facebook and Twitter.)
Commas, periods and punctuation
This is something I even struggle with to this day, but it's not something that can be easily fixed. Running your text through an application like Word or Grammarly will root out errant uses of commas, colons, and semicolons. Ditto for periods (or missing periods).
Consistent lists and headers
One note about periods, however, is that you may not want to use them in headlines or bullet lists. If you do, be consistent and make sure that either all of those items follow the same pattern.
Proper case, title case, and sentence case
Here's another tip for those headers: make sure they're following the same case structure. If something is a proper title, make sure that it's also in proper case throughout your entire article. If you're unsure if something should be made into proper case, a quick Google search is your friend.
Hyphens
The overuse of hyphens, en-dashes, and em-dashes can also plague your article and make it unpleasant to your reader's eyes. Be careful to only use these conventions as necessary.
Run-on sentences
Another bugaboo of mine are sentences that never stop. If you find yourself adding words such as "and", "but", or "or", you may want to consider breaking those sentences off at that point and ending them with a period; then start the next set of words as a new sentence.
Think of this as the equivalent to stopping to take a breath while running: give your readers a short break by using natural breaks within your writing.
Formal vs. informal writing
If you haven't already noticed, I'm big on having a writing style. That is, I don't want to bore my own readers to death by not being somewhat entertaining and down-to-Earth. However, it can be overdone and in either direction.
If your writing is akin to reading a technical manual of fixing an automobile, you may want to inject some of your personality into it.
If your writing is similar to a phone call, with lots of "so's", "just's", or "really's" you'll want to go in and tame it. Also, be wary when using slang: consider whether your audience understands what is you're trying to convey. It may be best to stick with formality in those situations.
Struggling for new content? Look to old content for inspiration
We've all been there: writer's block. You lack the drive or creativity to come up with new content and then obsess over not having something new for your audience.
"Oh no, they'll stop following me" or "I'll lose progress" are often the thoughts which come from stressing out over supplying new content to your readers or listeners. This type of anxiety isn't all too uncommon among creative types and entrepreneurs, especially if content creation is secondary to running a business or other priorities in your life.
Furthermore, if this is something you've been doing for any length of time, you may already have a nice stockpile of content you've already published: it's there you should look for inspiration.
Repurposing Old Content
If you're in a line of work where information may change or expire, it's well worth your time to look back on something you may have posted months ago or even years ago, and then using that as the source of a new piece of content.
Even if the information hasn't changed, a rewrite to freshen information that's still relevant easily gives you something "new" to share with your audience. You can also feel free to copy and paste some of the lines you've already used, especially quotes and sources, in the new blog post.
Chances are your followers may recognize some of what you wrote if they've followed you for a while, but a revision will still appear as new material.
Those who started following you after your blog was posted may have never seen the original item, which means this is brand-new in their eyes…
Reposting Old Content
If time is your enemy, you can still take your old content and repurpose it: but this time only for social media.
Chances are you may have only promoted your article once, maybe twice, on social media around the initial time that you published it. If that was months ago, you can now come around and simply share it again.
The concept is the same: it looks new to those who are new to you or your brand.
However, if your content was posted a week ago, you'll want to be careful not to spam your followers. They may think you only have this one item. (We all know those commercials that run over and over… and over. Don't be like those!)
What's old is new again
Hopefully this was a valuable lesson in how to reuse things that worked for you in the past to help you achieve your goals in the future. There's absolutely nothing wrong with reusing content, but just be careful that you don't use this as a crutch. That is, you still need to mix in new ideas or else you will suffer from appearing unoriginal.
However, when you are struggling for something new, it never hurts to revisit old content to bridge the gap. As the old adage goes, what's old is new again!
The differences between writing and blogging
On today's episode Joe breaks down the difference between writing and blogging.
Did you even know there was a difference? Well, there is!
You may think of those words as interchangeable, but there are a number of variances in crafting a blog post that you will need to know if you want to successfully navigate the waters of content marketing. Those tips, and more, are discussed at length on this show.
Now available on these services
Podcast: Play in new window | Download
What does this do for YOU?
This may seem like a very innocent question in the world of content marketing, but it's a noteworthy one. Every blog you write, every post you make on social media, every word you speak on a podcast or publish in an email or eBook is significant.
For example, if you mention a third-party product (i.e. not your own) in a campaign, you may be seen as endorsing it. Worse, you could be giving away free advertising.
The first thing to understand is that anything you say or do with you audience carries weight. A simple thank you or mentioning a mutually beneficial partner is an act of good will: randomly mentioning something else may have a negative impact, which a brand spinning its wheels to gain traction cannot afford to do.
Therefore, always ask yourself: "What does this do for you?"
That's not a selfish stance, but something that must be thought out when focusing on your content marketing strategy. Your primary focus should be sales or new business. In order to attract those customers or clients, your efforts should spotlight your brand or company.
Generally speaking, you want to bring your audience to you. You do that by sharing information on social media, however, it's not always that simple. There's no harm in sharing posts from someone else or publishing photos on your social media networks, but there's little "juice" to be gained to get those potential buyers to take the next step. A breadcrumb trail leading back to your website (where your sales pitch is, hopefully, well defined) should be your primary goal.
Sharing the local weather report, that someone can get anywhere else (such as the source) probably won't help your return on your investment of time and money. That's an issue I see with many potential new and even existing clients. They share/post a lot on social media, but it doesn't generate any conversation and certainly if it's not leading back to their website with a link or call to action, it disappears into the oblivion with no interaction.
"Sharing is Caring" but you have to be careful to not overshadow your own efforts. Think of it this way – you wouldn't buy a billboard or radio spot for someone else, so we need to ask ourselves why we're freely promoting something, if, "it does nothing for you."
Again, that may come off as self-serving, but that's the entire purpose of marketing. Far too often I see people with great drive expend their energy on things that aren't directly helping their bottom line. Don't be that person. Get down to basics and ask yourself the question above. You may find that this concept helps streamline your overall efforts and makes them more efficient and effective!
Finding, and properly using, photos for your blog and social media
Is your dream to have people stop scrolling through their social media feed when they see a link you shared?
Well, there's good news and bad news. The good news is that adding an eye-catching photo to your blog post will get the attention you want.
The bad news is that you don't want that attention to negatively impact your professional appearance: or your pocketbook!
Today's episode combines two of my previous blog entries into an expanded show on finding the perfect photos for your articles while maintaining they look perfect when shared on social media. I'll also discuss some warnings in regard to pulling any ol' image off of the web and uploading it to your website. (Don't do it!)
Articles mentioned during the show:
Where to find royalty-free photos for your blog
https://www.joekuzma.com/2018/08/16/where-to-find-royalty-free-photos-for-your-blog/
"Picture perfect" images and graphics on Social Media
https://www.joekuzma.com/2018/07/26/picture-perfect-images-and-graphics-on-social-media/
Now available on these services
Podcast: Play in new window | Download